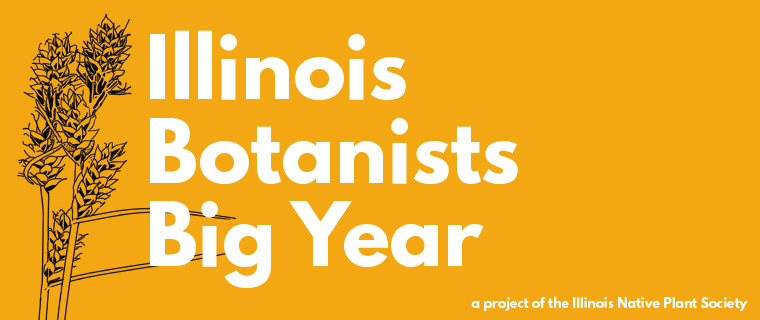 Find the most plant species in Illinois in 2021 and rejoice in your victory! The year 2021 marks the sixth annual Illinois Botanists Big Year (ILBBY). Anyone may participate, from professional botanist to plant identification novice, by uploading photographic proof of their plant sightings to iNaturalist. Each observation will automatically count toward the contest if you've joined the project and the observation meets the rules below.
New in 2021: The only observations that will be displayed on this project page are those by people who have joined the project. So, click this link to join up! Curious about yearly comparisons? You can always look at total yearly stats by using the Explore page, such as 2020 vs. 2021 Research Grade plant observations in Illinois.
Rules:
Must be a plant (bryophytes and vascular plants – native and non-native species are accepted),
Observed in Illinois,
Observed in 2021 (and uploaded by January 15th, 2022), and
Research Grade (that means it must be "wild/naturalized" and that you need a photo, date, location, and at least two people or >2/3 consensus on a species ID, in order to confirm the identification accuracy)
Curious about other ways to get involved than making observations? How about...
However you express your love for the flora of Illinois, happy botanizing!
-cassi / @bouteloua
P.S. The 2020 results will be announced after Jan 15th, so please do help out with identification if you can!
Carex buxbaumii illustration by Kathleen Marie Garness.
由使用者

bouteloua
在
2021年01月08日 01:42
所貼文